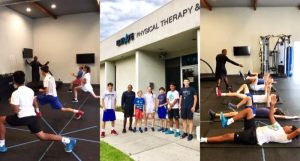 We are excited to announce that Elevate is hosting a Youth Athlete Development Series, designed by Elevate Physical Therapists and Youth Athletic Development Expert, Joynier Lockett, to help our youth athletes progress in their sports and reduce injuries. Joynier's passion for helping youth athletes propelled him to become certified in Youth Long-Term Athletic Development by the IYCA (International Youth Conditioning Association), and a Certified Speed and Agility Coach through Athletes Accelerated.
Starting April 18th and 23rd
Tuesdays
4pm:  8-12 year olds
5pm:  13-18 year olds
Sundays:
9:30am:  8-12 year olds
10:30am:  13-18 year olds
Here's what each age-specific class will teach:
1) Foundational Movement skills that translate into their sport through Long-Term Athletic Development (LTAD) programming.
2) Proper strength training through body weight movements to teach them body awareness while learning to control their high-speed movements, and reduce their risk of injury.
3) Speed & Agility mechanics to become faster and more explosive at a level designed for their current age, with the focus on long-term development. 
Athletes can come for both or one class per week.
Per Class: $35 per athlete
Package of Sessions: 10 classes for $300 ($50 savings)
To ensure every child has the opportunity for individualized attention, classes are limited to 8 athletes, and starting early is encouraged as each session will build on mechanics learned in the previous session.
Registration can be done via email, phone, or in person, up until two days before each class.
Email or call 424-322-8585 to reserve a spot today!