Little League baseball season is in full 'swing'. Look out for overuse injuries in your child, and check this out from littleleague.org of one parent's account of his child's overuse and need for Tommy John surgery… he thought it could never happen to his child. If your baseball player is experiencing elbow pain, come in for a PT evaluation, see your pediatrician, orthopedist, or sports medicine doctor. We're reaching epidemic proportions in the number of youth players requiring this surgery. Be aware, and prevent it from happening to your child.
__________________________________________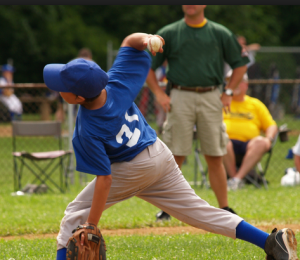 Parent Confessions… I Hurt My Little Leaguer's Arm
I remember the day my wife gave me an article about kids having Tommy John surgery. I read it, and kind of blew it off. Not my kid I thought. He'll just take it easy once in a while. He'll be fine. Well, it ended up being my kid. All that talent… gone. I blamed others. My wife blamed me. She was right.
As an 11-year-old, my son didn't lose a game on the mound. He pitched two no-hitters. Even the high-school coach came to see him pitch. "Lots of talent, AND he's a lefty!" he said after a game. I kept picturing my son sitting at a table, signing a Division 1 Letter of Intent.
We started practicing for his final year of Little League the very next day after his last game as an 11-year-old. I convinced him basketball was taking up too much time, and that if he concentrated only on baseball, he might get a free ride somewhere. I know now that was a mistake.
Throughout the fall and winter, he worked with a pitching coach, and he continued with his travel ball team. We live in North Carolina, so we play pretty much year round. He was the ace on the travel ball team. The manager pitched him… A LOT. My son won… A LOT.
We concluded a travel ball tournament on a Friday night. He pitched five innings. Got the W. The next day was "Opening Day" for Little League. My son was so excited. His coach came up to me before the game, and asked if my son had been pitching a lot on his travel ball team. "Nah," I said. He kind of just looked at me. "I don't want to risk injuring his arm," he said. "You need to tell me if he's pitching too much on the other team." "He's fine," I told him. "Opening day, Coach. Gotta go with your number one, right?" He did. We won. Me and my son's Little League coach had the same type of conversation one more time during the year. He had those talks with my son, too. My son, like me, said his arm was fine. Like most kids, he wasn't going to say if he felt something a little weird in his elbow.
My son was 3-0. He was scheduled to start against the best team in the league. He was excited. I was excited, until that is, another kid took the mound in his place. I poked my head in the dugout. "I'm shutting him down," said the manager. I asked why. "His arm is dead! I told you to tell if he's pitching a lot with other teams!"
I ended up resting him a little. That season, he only pitched one more time for his Little League team. I rested him some more. He played 50/70, and continued travel ball. His travel ball coach pitched him. I shouldn't have let him. His arm felt good one day, tired the next. We rested, iced it, and heated it. Sometimes he threw like his old self. Most times, he didn't. At 14, we went to the doctor. And at only 15, my son had Tommy John. He will never be the same, and that Letter of Intent that I was so intent on will never come.