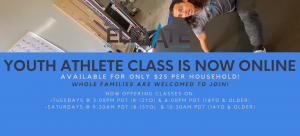 .
.
During the COVID-19 Stay @ Home Guidelines, our classes are VIRTUAL and only $25 / household, so everyone in the family can move!  Please call ahead to reserve your spot & we'll send you the ZOOM link!
.
.
Strength, Speed & Agility for Youth Athletes & Families 
(Pacific Time Zone)
.
Saturdays
9:30 am – 8 – 13 year olds
10:30 am – High School & College students
.
Tuesdays
3:00 pm – 8 – 13 year olds
4:00 pm – High School & College students
.
You will: 
.
foster physical & emotional health
get stronger & faster
become more agile, athletic movers
learn safe body weight and band exercises to do anywhere 
bullet-proof against injury
sweat & relieve stress!
have fun together (yet apart), during these challenging times
Class is designed to be done with just your body weight, but here are some tools that can be incorporated if you have them:
Towel or mat
Any weights or bands that you have
(If you need / want bands, we have them in stock, so just let us know and we'll make a plan for you to pick them up.  We can bring them out to your car.)
.
.
Designed and taught by Elevate's Doctors of Physical Therapy – Specialists in Sports Biomechanics, Strength & Conditioning, Performance, & Injury Prevention
.