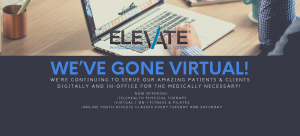 .
.
During COVID-19 Safer@Home Guidelines, here at Elevate PT & Fitness we've adjusted quickly to meet your needs and keep everyone as safe as possible during this time.  Please contact us and we can help determine what is the best and safest plan for you to get the expert care you require with our Doctors of Physical Therapy and Fitness professionals.
.
We will determine if your Physical Therapy needs are medically necessary for in-office care (for example, recently had a surgery, or are experiencing high levels of pain and disability, severely impacting your daily activities), or if Telehealth with one of our Doctors of Physical Therapy is best.
.
In addition, our expert Certified Trainers and Pilates Instructors can meet your private, 1:1 Fitness, Mat Pilates, and Yoga needs virtually via Telehealth.
.
Want your Youth Athlete to stay strong and ready to return to sport?  Our Youth Athlete Workouts (for families too) are virtual!  During this time entire households are able to workout for just $25 on Tuesdays & Saturdays!  Click HERE for more information.
.
Email us @ concierge@elevateptfit.com or call 424.322.8585 and we can help.  We're here for you.