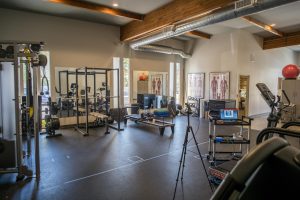 At ELEVATE FITNESS we combine state of the art equipment with highly-experienced Certified Trainers, Strength & Conditioning Specialists, Coaches, Pilates instructors and massage therapists to provide you with the best care in Santa Monica to elevate your mind, body, and spirit to the next level. Whether you are coming off of an injury, just getting into a fitness routine, or wanting to maximize your fitness goals or optimize your performance, we are here to help you.
EQUIPMENT:
Woodway Treadmill
Life Fitness Recumbent and Upright Bikes
Life Fitness Elliptical
Life Fitness Dual Adjustable Pulley System
Pro Elite Squat Cage and Bench
Athos Electromyography (EMG) Muscle Activation Gear
Hyperice Vibrating Foam Rollers and Spheres
Balance Body Pilates Allegro Reformer & Springboard, Jump Board, Chair, Oov
TRX, Medicine Balls, Plyometric Boxes, Kettle Bells, Free Weights, Bosu Balls, Balance Discs and rockerboards, foam rollers, Swiss balls, Rebounder, boxing gear, body blade
ELEVATED APPROACH.  ELEVATED RESULTS.